Employee Feature: Meet Anne H.
Employee Feature: Meet Anne H.
Today we are featuring Koffee Kult's own employee, Intern Anne.
Anne, also lovingly known as Intern Anne, started as our summer intern, and quickly became a Koffee Kult employee favorite. While she's still in school pursuing a degree in Accounting, Anne decided to hop on board full-time as our Florida Panthers Activation Specialist.
You may see her at the Panthers games or in the office, but wherever you see her, she'll have a smile on her face!
"Work hard, play hard. We work hard at the office but it is paired with a lot of jokes and fun (and Nerf guns)." — Anne H.
Check out her full interview below.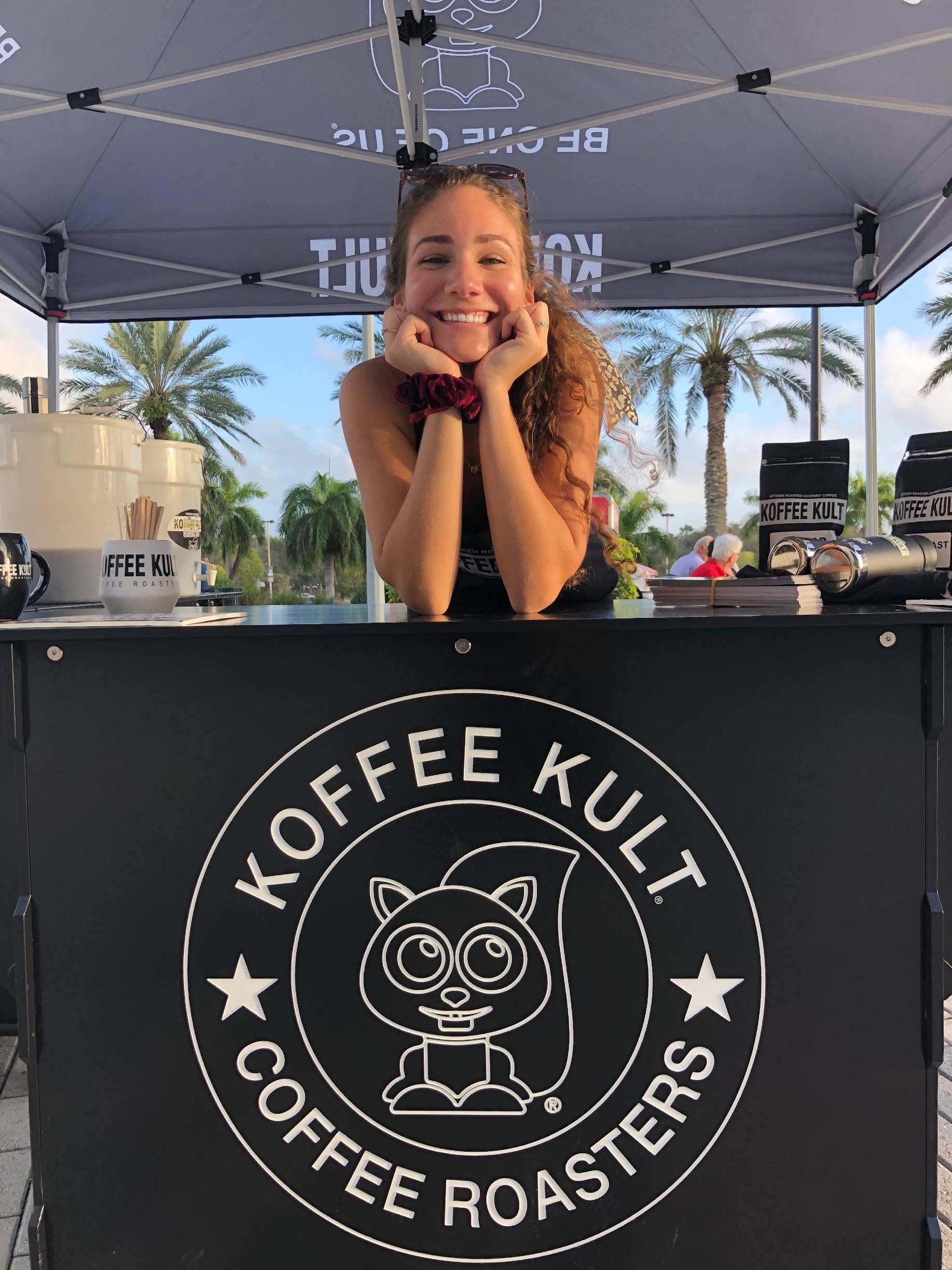 1. How did you first learn about Koffee Kult?
I first learned about Koffee Kult when my Mom had a bag of Bourbon Barrel Aged Coffee gifted to her. My parents knew the owner and told me about the company. I absolutely loved the coffee and ended up going in for an interview when I moved home from college.
2. What's your favorite aspect of working at Koffee Kult?
My favorite aspect has to be the free coffee benefits! Besides the coffee, I love the opportunities that Koffee Kult has given me, and all of the knowledge that I've gained since working here.
3. What are three words to describe Koffee Kult coffee?
Smooth, unique, unmatched.
4. Tough question, but what is your favorite Koffee Kult blend?
5. Even harder, what is your favorite Koffee Kult single origin?
This is a hard one to answer, but any Geisha we serve in the office or through our Secret Coffee Club. If we don't have a Geisha, I love a mug of Colombia Huila.
6. What have you gained from working at Koffee Kult?
I have gained a ton of knowledge on coffee roasting, the coffee industry, accounting and the business side of things, and much more. I also gained friends and a network of some really successful and knowledgeable people!
7. We need to know: what's your favorite coffee hack or trick to brewing the perfect cup?
My favorite drink is a latte using Koffee Kult's Dark Roast. I'm not much of a barista, however, I learned how to make my own lattes while working in the office. The trick is to tamp the shot perfectly and make sure to not burn the milk when steaming it!
8. What do you pair your coffee with?
A fresh chocolate chip muffin with my latte is the perfect start to my mornings.
9. Coffee quote to live by: go!
I like my men like I like my coffee: smooth and sweet.
---
Shop Anne's Favorite Koffee
---