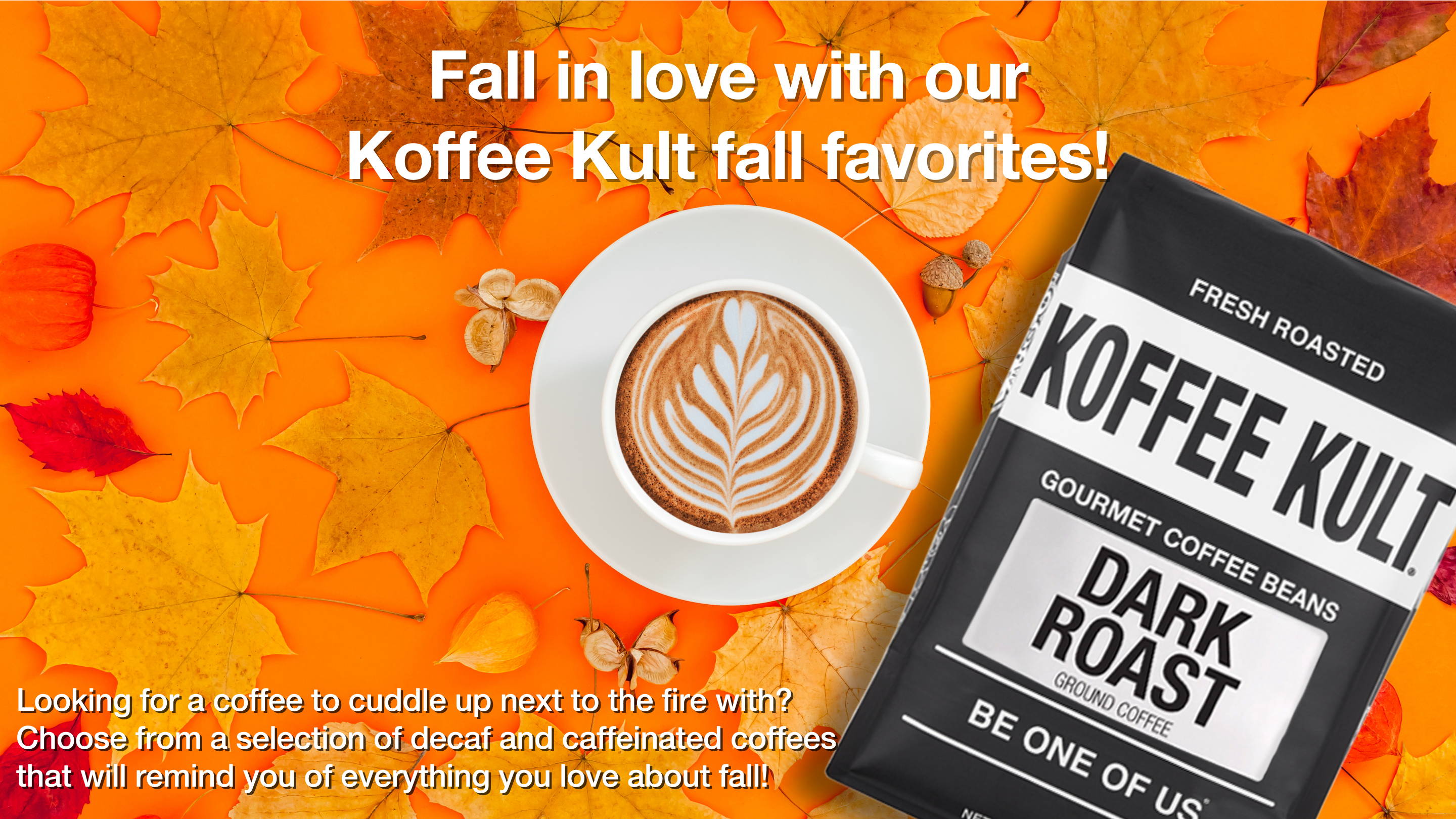 ---
Colombia's dark chocolate, rich, sweet cupping notes are definitely going to put you in the fall mood.
Have you ever heard people say that decaffeinated coffee is too stale or just flat out does not taste good? This was true years ago, but our water decaf has been perfecting the taste since. Giving decaffeinated coffee a second try is a must with Koffee Kult Decaf Coffee.
The caffeine is removed from the bean with water, which means no chemicals or chemical taste in your coffee. It tastes so delicious you won't miss the caffeine. At any time of day, you have the option of enjoying your favorite coffee without the caffeine.
---
Mr. Coopers smooth, heavy bodied cinnamon flavors will make you want to go jump into a big pile of leaves.
Our Dark and Medium Roast coffees blended together for a unique cup of joe. From deep in the Costa Rican coffee plantations to the mountains of South Carolina, We bring you Mr. Coopers Fiesta en la Finca, This bold and smooth coffee blend is inspired by the wonderful times we had while visiting the coffee farms in Costa Rica. If you are looking for a well-balanced flavor with full aroma this is your blend.
Our Coffee beans are packaged as whole bean coffee to ensure optimal freshness in a resealable coffee bag. Koffee Kult Coffee uses the best specialty grade sourced beans!
---
White Lightning's peanut butter cookies and honey cupping notes will make you feel like you're curled up by the fire place on a cool fall night!
Amazing light roast blonde coffee to get your white coffee on. Inspired by our friends in the North East of the United States. Fill your mug with tons of flavor and caffeine, so good there is no need for cream or sugar. THIS IS NOT FOR EVERYONE - VERY LIGHT ROAST
Lightly roasted coffee to maintain the maximum caffeine content for coffee. Blonde coffees are know to have 5% more caffeine in them compared to darker roasted coffee beans.
---
Road Dog's sweet, brown sugar, dark chocolate notes will give you that warm sitting by the fireplace feeling.
It's that satisfying feeling of hitting the open road after a long night's work and enjoying a piping hot cup of coffee to enjoy during the ride ahead. This coffee is what we use to drink when rolling off the tour bus in the morning from a long night of loading and setting up the previous night's gig. This dark roast blend will keep you going from city to city and state to state.
This highly aromatic blend features a full body complemented by spicy, earthy notes and just a hint of nutmeg.
---